Want to work for racial justice? Organize, protest, vote, and spend with intention. And stop giving your investment dollars to companies that exacerbate racial inequities. When publicly traded companies employ these practices, the repercussions extend throughout the financial system.
Robasciotti & Philipson, a Black-owned investment firm, has created a bold and comprehensive racial justice screen for publicly traded companies. We put it to work for our clients in our Adasina Social Justice Portfolios. Today, we are publicizing the list of companies we exclude from our portfolios based on our racial justice screen, so others can freely access this data. We continue to conduct research with our partners to ensure this list reflects the insights of social justice movements.
The table below includes the list of companies, the reason each was excluded, and a data source. Below the table, you can find more details about each criterion for exclusion, links to the data sources, and frequently asked questions.
Racial Justice Exclusion List
Click here to download a pdf of this list.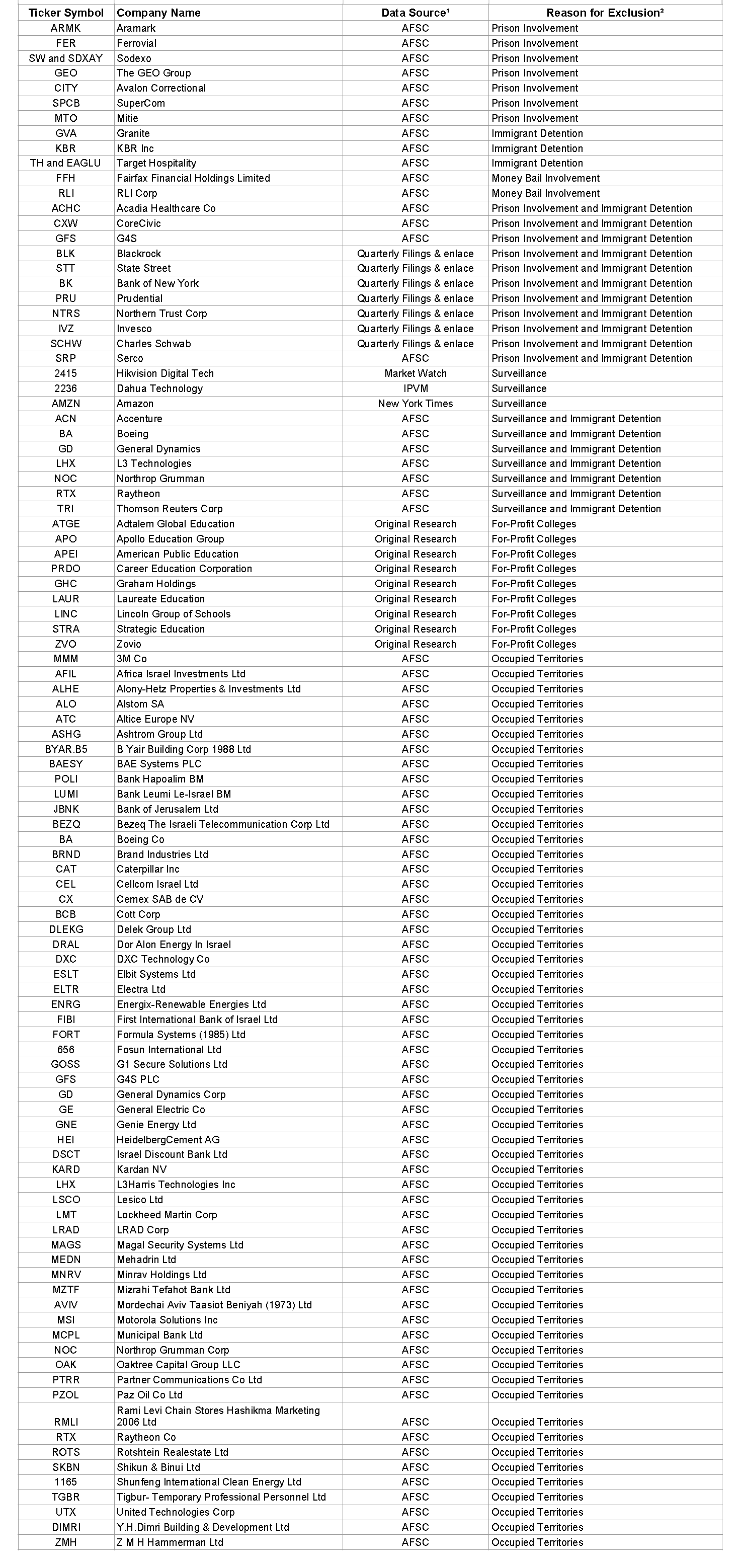 You can learn more about Adasina and our other social justice investment criteria here.
1 Data Source Citations:
American Friends Service Committee: Border Construction and Maintenance, Transportation and Deportation, Borders, Target Hospitality Corp, Community Corrections, How to Divest, Prisons, Private Facilities Internationally, Border Surveillance and Monitoring, High-Tech Surveillance of Immigrants, Bail Bonds, Occupations
Market Watch: Hybrid Video Surveillance Market is Thriving Globally: By Top Leading Players: Hangzhou Hikvision Digital Technology Co., Ltd., Dahua Technology Co., Ltd, Axis Communications AB
Original research performed by Robasciotti & Philipson.
2 Reason for Exclusion:
Frequently Asked Questions
Can you explain more about the choice to exclude Occupied Territories?
We are aware that this exclusion criterion can be controversial. Companies are excluded based on their participation in systems that enable systemic racism globally. This includes companies "…whose business policies or practices discriminate either between Jewish and Palestinian citizens of Israel or between Israeli citizens and Palestinians living under Israel's military occupation." This criterion was chosen in deep relationship with our social justice partners, unflinching solidarity with the Movement for Black Lives, and with extensive research and analysis provided by three highly respected institutions: the American Friends Service Committee (the Quakers), Human Rights Watch, and the United Nations. Furthermore, during the complex process of drawing up their database, the UN Working Group on Business and Human Rights held widespread discussions with numerous states, civil society organizations, think tanks, academics, and others, as well as having extensive interactions with the companies themselves. In Human Rights Watch's most recent report, of the 112 business entities identified, 94 are domiciled in Israel and 18 are in other countries. Our commitment to ending racism doesn't stop at US borders; we work in solidarity with global movements.
It is helpful to note that although there appears to be a larger number of companies excluded in this category, that is a result of the fact that there are simply more companies that fit this particular criterion.